About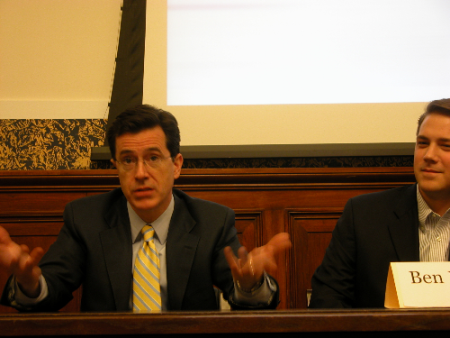 This is me, Ben Domenech. I'm sitting next to Stephen Colbert. We both grew up in Charleston, South Carolina. For some reason, he did not need a title card for identification purposes. Go figure.
I am a research fellow for The Heartland Institute, a Chicago-based libertarian think tank, and editor in chief of The City, an academic journal on politics and culture. I also produce a popular daily email for center-right insiders called The Transom.
I previously worked as a speechwriter for HHS Secretary Tommy Thompson and as chief speechwriter for Texas Senator John Cornyn, as well as writing for numerous other politicians. I've had the privilege of working as a book editor on a few New York Times bestsellers penned by some excellent authors, I've written freelance articles for a number of newspapers and magazines, and I co-founded Redstate in 2004. I contribute regularly to several blogs, including Ricochet and RealClearWorld. I also co-host an award-winning daily center-right podcast, Coffee & Markets.