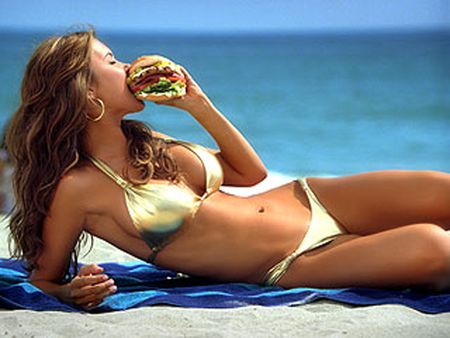 Time's Belinda Luscombe had an interesting piece recently on Bud Light's new web ad, which I'd seen linked by more than a few folks on Twitter. It's posted on YouTube as "The Best Bud Light Commercial Ever," and features a male customer caught in an increasingly embarrassing situation thanks to his attempt to purchase a dirty magazine with his beer.
As Luscombe writes:
The ad, which quietly appeared in February as part of a viral campaign, has attracted little notice thus far, but because it comes from a highly respected American brand, it seems to mark some kind of cultural tipping point, where pornography has soaked so far into the fabric of mainstream culture that it's no longer seen as a stain.
That's the concept of "porn creep," as she rightly identifies it, a phenomenon that seems to be getting increased attention as the porn industry becomes socially commonplace and accepted as ubiquituous to the internet age.
There's little question that over the past two decades, porn creep has extended significantly into music videos, reality TV, and increasingly into mainstream movies — even artsier ones like Steven Soderbergh's latest film, The Girlfriend Experience, which has an entire promotional program built around pornstar Sasha Grey. None of this is all that surprising — Soderbergh has his awards and his critical appeal, so he's got nothing to worry about, he could do Ocean's 17 tomorrow and I doubt that Focus on the Family would make a peep — but it is surprising to consider how far porn creep has extended into the world of corporate advertising, which presumably has to worry about customers and image to a much greater degree than Hollywood or MTV.
One of the strongest waves in American advertising over the past few years has been following the trends of Europe and South America toward using sex to sell fast food to young men. Slate's Seth Stevenson wrote about this a few years ago, and in the time since, it certainly seems like sister burger joints Hardee's and Carl's Jr. have made the food porn method their calling card. Stevenson wrote about the blatant "straw girl" and "fist girl" ads, but those were clumsy and too blatant — the more effective examples since include the "Girlfriend" and Paris Hilton spots. But the most popular have to be the legendary Western Bacon Thickburger commercials, featuring model Cameron Richardson writhing on a mechanical bull to Foghat's Slow Ride:
And Bravo's Top Chef star Padma Lakshmi, an ex-model and a foodie in her own right, describing the decadence of her fast food craving:
Of course, having been in more than one Hardee's and Carl's Jr. over the years, I have yet to see any of these women showing up to partake. But whatever these burger joints have going on, it must be working: they just filmed the latest food porn ad with bikini-clad Hills star Audrina Patridge.
Using blatant sexual appeals to sell products to the hormonally motivated isn't a new thing — just go find every ad from the 1970s and 80s featuring Farrah Fawcett — but it's noteworthy that we've gone beyond cars, alcohol, cologne, tobacco and movie tickets to Doritos, websites, and heavily processed cheeseburgers. Slippery slope arguments aren't always proven out by history, but often they are — and in this case, I don't think that cultural conservatives have any hope of guilt-tripping the companies involved into putting less skin into their sandwich ads.
The solution shouldn't be pushback in that vein — not just because it won't work in the longterm, but because government overreach is always at risk. Instead, traditionalists should focus on giving parents more tools to protect their children. If Hardee's and Carl's Jr. are going to run ads like this during viewer-heavy television that isn't DVR-able — family-friendly live sporting events on Sunday afternoons come to mind — parents need to be able to block out ads that, if they had ratings, would be categorized as far more mature than the show during which they run. There's no technological barrier at issue to prevent that from happening, and it should.
The broader ramifications for porn creep aren't necessarily severe — the reactions to the Playboy rape list incident a few weeks ago shows us there's still a line that goes too far for most people, even in the crazy world of the blogosphere — but there are ramifications. The top Yahoo search the other day was for Kendra Wilkinson, the reality TV icon famous for being one of the Playboy playmates tapped as one of Hugh Hefner's "girlfriends," who just announced her pregnancy by her husband, Philadelphia Eagles wide receiver Hank Baskett. In Louisiana over the past few months, the possibility of pornstar Stormy Daniels challenging incumbent Republican David Vitter for his Senate seat seems more of a lark than anything else.
It's hard to see the longterm negative social impact for this sort of porn creep into the common culture, besides perhaps kids learning a few words from CNN and watching an NFL game a lot earlier than they otherwise would. Sure, things are coarser now, and sex becomes a matter of daily life earlier and earlier. But these trends are cyclical. It's easy to say: Where's the harm in it?
But then, you consider that Wilkinson got into taking her clothes off for the cameras after she lost her virginity at age 14 — and that Daniels started stripping in Baton Rouge when she was 17 — and you understand why parents should be given every tool they can to raise their children responsibly, in an environment where having sex for money (even if it's with a cheeseburger) isn't just another lifestyle choice.