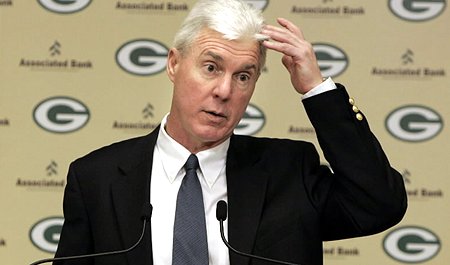 According to the latest report from Fox's Jay Glazer, Brett Favre has been traded to the New York Jets.
Consider: From 1968 to 1991, the Packers had a total of five winning seasons. The lack of star talent and terrible facilities kept them in the bottom rung of team earnings. But Ron Wolf and Favre changed that fundamentally – his jersey was a top seller every year, and many people became Packers fans nationally simply because of his style of play (they don't have a footprint rivaling the Steelers, Cowboys, Redskins, or Patriots, but it's still huge). This is one of the most public breakups in history, rejecting the runner up in MVP voting from the previous year who threw for 4000+ yards and led his team to an improbable 13-3 record. In the minds of many Packers fans, you just were given an enormous gift – the opportunity to shed an untested, injury-prone young QB (who only your GM ever wanted anyway) in favor of one last run at another championship with a Hall of Famer – and the Packers management was too wedded to the idea of creating their own form of victory to suck up their egoes and welcome him. The only comparison I can think of off the top of my head in terms of having one individual divorce have such a massive effect on an entire state's attitude toward a team is if the Rangers or Astros had given the public finger to Nolan Ryan when he offered to be team president.
One of the key things that Green Bay has gone through since Favre's decision in March is a rising shedding of jobs. The ticket market has collapsed. The announcers who had stayed in Green Bay hoping to call one more Super Bowl have retired. I think this could end up having enormous ramifications in terms of lost money for the franchise – and exactly the kind of financial decision you would expect from the only publicly owned franchise in professional sports, with 111,000+ shareholders.
This season ought to be very interesting for Green Bay, particularly after Aaron Rodgers inevitably goes down to injury this season (if we learned anything last season, it's that the NFL still has karma, people). Get ready for the Brian Brohm show.
One of the interesting dynamics of the slow car accident of the Brett Favre unretirement saga is the unique yet unremarked upon status of General Manager Ted Thompson. As Peter King noted in a surprisingly astute point in his most recent column, Thompson, unlike every other GM and head of player personnel in the NFL, does not work for a sole owner. He and the team's board of directors instead report to a small sample of the thousands of stakeholders who own the Packers franchise. Because the shareholder meetings aren't exactly daily activities and not everyone is included, Thompson gets to fend for himself on most decisions without any significant input from an owner – there's no Jerry Jones, no Robert Kraft, and certainly no Dan Snyder looking over his shoulder. And since Thompson picked the current Packers head coach, Mike McCarthy, for the team (McCarthy, a former coordinator with the lackluster Saints and 49ers offenses, wasn't getting any serious looks for head coaching gigs from other teams at the time he was hired), he's not going to get any guff from the HC's office, either.
So unlike every other GM, when it comes to the personnel moves of the Packers franchise, the buck really does stop at Thompson's desk and no one else's. Which is why I think it's safe to say that, lacking any excuse of owner bias or a powerful coach, Ted Thompson is quite possibly the worst General Manager in pro football.
Yes, I know that's an extreme statement. But I believe it's Thompson's moves – and his mangling of his 34 draft picks, the most of any GM in the NFL over the past three years – that provoked the current status, where the Packers are embarrassing themselves to a ridiculous degree by offering a Hall of Fame Quarterback $20+ million to stay retired.
Consider the following facts, arranged chronologically:
2005
Thompson was hired in 2005 after a rather brief front office run under the tutelage of Mike Holmgren in Seattle, and wasted no time putting his mark on the team. While the Packers were only slightly over the salary cap, and were at that point a veteran team (winners of three straight division championships), built around Brett Favre, with Ahman Green and Javon Walker as their chief playmakers, and one of the best offensive lines in the NFL, Thompson declined to resign or sufficiently replace several key members of the team.
-Thompson outright released safety and defensive leader Darren Sharper, who promptly defected to the Minnesota Vikings (and has had two Pro Bowl seasons, including leading the league in interceptions from his position, since being released).
-Thompson declined to resign either of the Packers Pro Bowl Guards, Mike Wahle and Marco Rivera. As any veteran QB knows, not resigning two of your primary protectors has to be a bad sign for your health. A worse sign? Thompson did not draft a single Offensive Lineman to replace Wahle or Rivera in the first day of the draft, and instead signed low priced guards – and, most considered, career backups – Matt O'Dwyer and Adrian Klemm. At the time, Thompson praised both to high heaven, saying that they had solved the offensive line problems and saved money at the same time.
In what would become a pattern for the players Thompson singles out for praise, O'Dwyer was cut in training camp, and Klemm was eventually benched. Thompson's other free agent pickups included RB Samkon Gado, TE Donald Lee and WR Rod Gardner. Today, all but one of these free agents Thompson acquired in 2005 are "out of football" – including Gado, O'Dwyer, Klemm, and Gardner. In other words: they couldn't even cut it in the league for another two seasons.
Instead of drafting O-line help, Thompson chose QB Aaron Rodgers with his first pick overall. Rodgers was a controversial choice: he had been expected to go as high as first overall, but dropped to the bottom of the first round, as many teams viewed him as a product of a college system with a bad reputation in pro football (having also produced Joey Harrington and Kyle Boller, two first round busts at the pro level), and had injury concerns as well. But Thompson's choice to pass on O-line help to draft Rodgers after so many other teams had passed on him, and the nature of the contract he signed as a first round pick, clearly showed that the GM did not anticipate Brett Favre being the quarterback for the Packers beyond one or two more seasons.
Thompson did attempt to bolster the defense after letting go of Sharper, choosing safety Nick Collins and linebacker Brady Poppinga on the first day. Both Collins, a small school safety considered a huge reach even at the time, and Poppinga are now in danger of losing their starting jobs after two full seasons in the league. Both have also had injury issues.
2006
The 2005 season was an incredibly rough one for the Packers. They lost several key players to injury, including Walker, Green, TE Bubba Franks, and backup RB Najeh Davenport. They finished 4-12, their worst showing since 1991. Usually, in a season this injury plagued and his first with a losing record, a coach with as much success as Packers HC Mike Sherman would get a pass, especially after re-signing a contract at the beginning of the season. Sherman's offense was extremely successful and consistent prior to the decimation of injuries. Under his leadership, the Packers had won three consecutive division titles for only the fourth time in team history (Lombardi and Holmgren were the only other coaches to do it). Sherman's Packers teams had been 2-4 in the playoffs, yes – but it was still a surprise to many that Sherman was summarily fired.
It's interesting to read that linked story considering the current crashing disaster of Favre v. Thompson – in it, Thompson notes the following:
Thompson said Sherman, who signed a two-year contract extension in August, was surprised and disappointed when he learned of the decision early Monday morning…Thompson also spoke to the players Monday morning, calling the meeting "very quiet and somber." But Thompson said he had not discussed the decision with Favre. The three-time MVP is mulling retirement and has said he might be less willing to return if he had to learn a new offensive system and work with a new coaching staff.

Thompson said he wants Favre back, but he needs a coach who will bring the team long-term success. "Eventually Brett Favre's going to retire and go back to Mississippi," Thompson said. "But that didn't have any sway in this particular decision."

Thompson brushed off Favre's concerns about learning a new offense: "He's a pretty bright guy."
Thanks to Thompson's el cheapo decisions from the prior year, the Packers entered the 2006 offseason with more money available under the salary cap than any other team: a full $32 million, a king's ransom in NFL terms. But to amazement of the entire league, Thompson refused to spend a significant amount of money. He was content to go low-dollar, and again ditched veteran players in favor of amassing young, cheap draft picks.
Thompson passed on re-signing Pro Bowl kicker Ryan Longwell (who'd kicked more clutch field goals in windy Lambeau than anyone since the era of Starr, and followed Sharper to Minnesota) in favor of the erratic Dave Rayner, and also ditched All-Pro center Mike Flanagan and reliable LB Na'il Diggs.
Thompson did re-sign Pro Bowl DE Aaron Kampman and RB Ahman Green (in a move that raised eyebrows coming off an injured season), as well as guard Kevin Barry (another questionable move) and FB William Henderson. He also signed Marquand Manuel away from the Seattle Seahawks, brought over DT Ryan Pickett from the St. Louis Rams, LB Ben Taylor from the Cleveland Browns, and cornerback Charles Woodson from the Oakland Raiders. Of Thompson's free agent acquisitions from 2006, only Pickett and Woodson have played well – Manuel was an unmitigated disaster, and several others (Barry, Henderson, Taylor, and several other minor players) are today, less than two seasons later, all listed as "out of football."
In the 2006 draft, Thompson made 12 picks, including LBs A.J. Hawk and Abdul Hodge, WR Greg Jennings, and (perhaps overcorrecting for his mistake the previous year) guards Jason Spitz and Daryn Colledge. Hawk, a much studied pick, has been steady if not a game changer; Jennings has had flashes of brilliance, but also caught the injury bug and has failed to consistently produce for a second round pick; the rest have been fair at best, with Colledge being benched for poor play and Hodge, a third rounder, never getting close to winning a starting job (he has 10 tackles after two seasons).
After opening the season with a 26-0 loss at home to Chicago, the first time in 15 years the Packers had been shut out, Thompson signed troubled WR/KR Koren Robinson, who had been released by the Vikings after his second DUI in two years. He spent most of his time with the Packers bouncing in and out of league suspensions, and was released at the end of the following season.
2007
So what do you do, as Packers GM Ted Thompson, after an 8-8 season under rookie coach McCarthy in 2006, missing out on the tiebreak and the playoffs on the last day of the season? What do you do when you're in need of those handful of critical free agent moves to put you over the top, with a veteran quarterback who'd thrown for close to 4,000 yards in the prior year, ripped off four straight wins to close the season, saddling up for one more run at a championship?
Well, if you're Ted Thompson, you take your hands, put them on your chair, and then sit your ass firmly on top of them.
For the second year in a row, the Packers led the league in available money under the salary cap – a full $21 million. With this money, the Packers targeted and obtained exactly one free agent prior to the start of the season: NY Giants DB Frank Walker, a career backup. Walker would finish the year with one (1) pass defensed.
Despite all the available cash, and a plethora of mid round draft picks, Thompson declined to part with a fourth rounder for disgruntled yet immensely talented Oakland WR Randy Moss, who greatly admires Favre. Favre personally lobbied Thompson to make the move, but Thompson told the press that the team had no need of another WR (though he would later draft not one but two WRs). Moss instead went to the New England Patriots for a fourth rounder, setting up a record-setting tandem with Tom Brady that propelled the Pats to an incredible offensive season.
In the 2007 draft, Thompson chose Tennessee DT Justin Harrell with the #16 overall selection. The choice was met with shock and dismay; Harrell was widely viewed as a reach, and not a position of need for the Packers. Thompson was loudly booed by the fans at the Packers Draft Day party, and again when the choice of WR James Jones was made in the third round (though Jones turned out to be a decent selection, but how his 676 yards for a third rounder beat Moss's 1,493 for a fourth, I don't know). Harrell was coming off of an injured bicep, and ultimately contributed very little. Nebraska RB Brandon Jackson, Thompson's second round selection, was intended to be the team's starter and replacement for Green – but Jackson never seemed capable of owning the position, and ultimately finished the year with only 267 yards rushing. Ultimately, out of the long list of choices, Thompson's best selection turned out to be kicker Mason Crosby, a solid choice who replaced the skipping-stones style of Rayner.
In September, Thompson made one more move: he traded a 6th round pick in the 2008 NFL Draft for New York Giants' running back Ryan Grant. Thompson had no idea of Grant's ability, and in fact chose the player because of his size and special teams experience – he was merely looking for another back to fill in following injuries to other backups. But luckily for the Packers, the Giants didn't know either: to Thompson's good fortune, Grant exploded in Green Bay, developing into an incredible player and propelling the Packers to an incredible 13-3 regular season record.
The Packers ultimately made it all the way to the NFC Championship game, losing 23-20 in Overtime to the eventual Super Bowl champion Giants.
So what does this all add up to?
Consider this for a moment: exactly four players out of Thompson's ridiculously high number of draft selections (more than any other team over the same period) in any of the three years he's been Packers GM have contributed anything significant to the success of the team. This is: Jennings, Jones, Hawk, and kicker Mason Crosby. An equivalent number of his most high profile picks – first rounder Rodgers, second rounder Collins, second rounder Colledge, and first rounder Harrell – have all proven to be fragile underperformers. Collins, Colledge, and Harrell have all been benched and missed games with injuries in their young careers, and Rodgers is a total question mark – not just because he's been Favre's backup to this point, but because of fears that he may be the most injury prone of all of Thompson's selections.
Even in very limited regular season action, Rodgers has had his left foot broken and torn a hamstring, in both cases missing the remainder of the season. Rodgers gets testy when he's asked about this, but the point is that the Packers are coming off of a QB who's been, let's just say, hard to kill. With Rodgers, the reverse may be true. It seems that the Packers are eager to find out if Rodgers can take them beyond the 13-3 Favre delivered last year – hard to do if Rodgers turns out to be, like so many other QBs, mortal.
With Rodgers at the helm, Thompson's strategy for the Packers will be complete: he'll have total ownership of the season to come, whatever happens. The GM decided, in almost every area, to go for the cheap, injury-prone player over the tested, higher-dollar veteran. He chose to adopt a long term strategy in an increasingly short term league. And now, he chose to pass up on the desire of a Hall of Fame QB to play one more season in favor of an untested young QB (but one he's personally invested in).
Thompson's up to his old tricks again in other areas, though – despite plenty of room under the cap, Thompson is currently low-balling Ryan Grant, leading to the RB holding out and skipping training camp. For all the sound and fury about Favre, this may turn out to be the decision that seriously impacts the team this year (Note that the Packers have complained regularly that Favre's decision affected their offseason moves – but an examination of their draft shows that really only one pick, that of QB Brian Brohm in the 2nd round, was changed – and Brohm is still a great developmental prospect who will almost certainly end up the 3rd QB, with 7th Rounder Matt Flynn on the Practice Squad).
I can't tell you what's going on in Brett Favre's head, or how this whole thing is going to end. But I can tell you this: we're all about to find out if Ted Thompson is as horrible a GM as I suspect. Packers fans should hope I'm wrong.