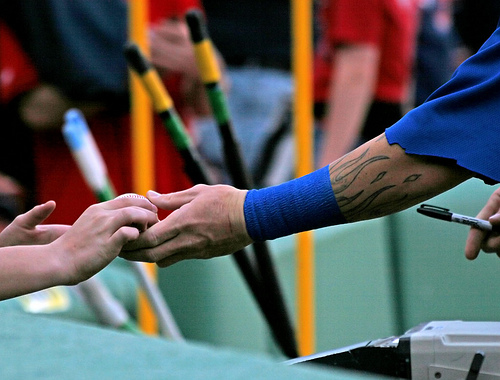 I am not supposed to be happy about what Josh Hamilton did the other night. At least, not if I read the sports blogs out there. I'm supposed to put on my shiny pretentiousness hat, given out with every .com purchase on GoDaddy, and approach Hamilton's story with sarcasm and ridicule for the man's faith. Maybe dismiss him as old news. Maybe put up an old mugshot from his crack-addicted days and mock him as a jackass. Maybe make some crack about how he's going to give that worship up since he didn't win the Home Run Derby, and that he'll keep switching religions til he does. He just hit 35 homers, yeah, whatever.
But I'll leave that to the commenters at Deadspin.
This article from 2006 wasn't the first one I'd read about Josh Hamilton and his tragic tale of personal failure. Neither was this eerily similar one from 2007, or any of the other profiles out there. I can't remember what it was. But I know it was a long time ago. Way before he never made it past A ball. Way before he ended up as one of the worst draft picks of all time (according to ESPN, number 35).
I remembered seeing a TV interview with Hamilton when he was drafted 1st overall in 1999, watching it in my college dorm and realizing he was my age – and that he looked like just a good, All-American kid – and I remember reading about how it all fell apart. How he made it all fall apart. How he blew all his money, got kicked out, driven down. How he disappeared.
I saw a picture of him in a magazine in 2003. This was the new Josh Hamilton, staring out of sullen, sunken eyes – a picture that said drug addict, bust, failure. He didn't look like The Natural – he looked like any other Crown Royal-swilling crack addicted piece of white trash – covered in tattoos, garish and ornate, demons and patterns, his skin telling of late nights and drug fueled blackouts and lost memories. As Dave Sheinin wrote: The Devil and the Son of God, waging war.
There's a plot twist to this one, though. The Devil lost.
It's funny the way you start paying attention to an athlete – one who's never played on any of my teams, or even in the same state. But for the past several years, every roto league I've been in, I've drafted Josh Hamilton. First it was just the last pick of each round – like he was a mascot or something. Then earlier. Then this year, I took him in the sixth round, knowing the eyebrows of others would rise…and at the halfway mark of the season, he's ranked 4th in points among all Fantasy Baseball players.
He says he made the long road back out of the blackness thanks to his loving family and his Christian faith. He says it's saved his life. And he's not shy about it. He wants to tell everybody. He knows where he's come from, and what a gift this second – or is it third, or fourth – chance is.
I get a lot of abuse in visiting cities, but it only bothers me when people are vulgar around kids. The rest I can handle. Some of it is even funny. In St. Louis, I was standing in rightfield when a fan yelled, "My name is Josh Hamilton, and I'm a drug addict!" I turned around and looked at him with my palms raised to the sky. "Tell me something I don't know, dude," I said. The whole section started laughing and cheering, and the heckler turned to them and said, "Did you hear that? He's my new favorite player." They cheered me from that point on.
So I'll leave it to more jaded writers to mock how Hamilton said he'd dreamed of this moment – of stepping to the plate at Yankee Stadium, hitting in the Home Run Derby. How he'd dreamed it two years ago, when the whole thing seemed like just a fantasy, an impossibility for a former drug addict whose best hope was a minor league career and a steady paycheck. How his faith led him back from the brink – faith not in his own ability, but in something greater. They can mock. It's what they do.
As for me, if I'd been in the park the other night, I would've been chanting his name with all the rest, realizing that, whatever Hamilton's career in the big leagues turns out to be in the years ahead, for this night – in this moment – we were all witnesses to a resurrection.