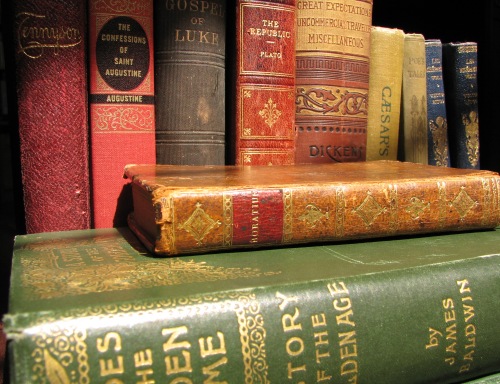 Not those books: these books. The brilliant Michael Lopp's extensive ruminations on the perfect notebook may seem odd to some, but to people who still can't get through a day without jotting down their thoughts, it's an excellent piece:
The primary goal of a notebook is to get out of the way… to disappear. It does this by perfectly fitting into your writing situation. How accessible does it need to be? What notebook tangibles do you need? How will it withstand a beating? By fitting into how you write, a notebook becomes invisible. It wastes none of your time because any moment you spend noticing the notebook is a moment you could be noticing something else, and writing about it.

But that's not what makes a notebook truly sexy.

I have years of experience with some notebooks, weeks with others. As you can see, I've explored a wide variety of notebooks. The photo above is ordered chronologically, with my oldest journal on the bottom and my newest discovery, the Field Notes brand, the notebook in which I'm writing the first draft of this article, on the top. Like The Gel Dilemma, I've evaluated notebooks according to specific buckets of criteria.
He proceeds to evaluate the different brands, based on a variety of factors. I agree that paper weight is the Achilles heel of the Moleskine brand, thought the Cahier pocket size is quite durable in my experience, and is the notebook I've used the most simply because it's inexpensive and easily replaced if you drop it somewhere or spill coffee on it.
My problem with notebooks is that they don't have quality paper. But that creates another problem: the ones that do, such as a nice notebook I bought in college from Cavallini & Co., are just too nice to actually use. I feel guilty, like it's bad to mix up the To Do list and callback numbers with random thoughts that will turn into unsuccessful proposals or unimportant blog posts across paper that is at least 90# stock. Thus, the nicest notebook I own – a handmade leather bound embossed hardback I got from London, which looks like it should contain lengthy discourse on Thucydides or at least a good poem or two – is still unused. It sits on my desk in its wrapping, mocking me on a daily basis with its tobacco colored spine. I've had it for almost five years, and it is waiting for me to write in it.
But until the inspiration comes, I'll stick to the best new find I've made, via Rands in Repose and Coudal Partners (otherwise known as the creators of Layer Tennis and Jewelboxing) – the solid, confident, and perfectly sized Field Notes.
The leatherbound goddess will have to wait.