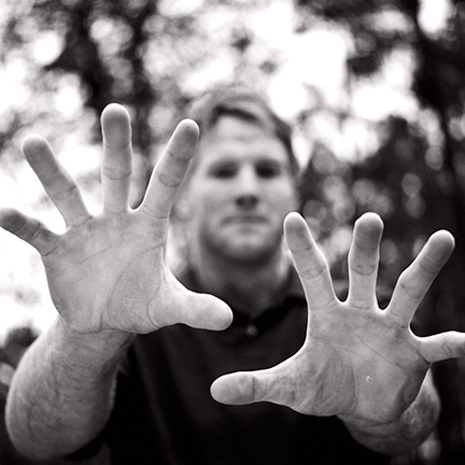 They are lies, I tell you. Those words you heard ten thousand times from ESPN and Peter King and the NFL Network and everyone else over the past two days, I'm here to tell you it's just not true.
Brett Favre did not play the game like a kid.
It's hard to believe he's gone. Some part of me believed he'd be in Green Bay forever, that he'd throw those passes that could make you shriek in joy or curse in frustration. I felt kinship with him, being from Mississippi, coming from SMU. I whooped with joy when he won his Super Bowl, and I wasn't even a Packer fan. I know I wasn't alone.
As I got older, I came to appreciate Favre for the figure he was in the larger sense: an underrated (yes, underrated) quarterback who matured as a player, rebuilt one of the greatest franchises in American history, and beat the odds over and over again to achieve incredible success. You've heard the truth-become-legend by now: he received only one scholarship offer after high school; he wrecked his car and almost died; he failed the physical for his trade to the Packers – doctors said he had the same degenerative hip condition that ended Bo Jackson's career, that he would only play 2 or 3 years. Ron Wolf thought 2 or 3 years was worth it, and got 14 more bonus years on top of it. And now, his number itself is iconic.
The effect Favre had on people was powerful. We've all heard about the kid who's worn his jersey every day since 2003. My heart sank when I heard on the radio that he was leaving, when I should be glad that there's one less team in the NFC with a lock on a playoff berth (yeah, good luck with that, Aaron Rodgers). You can't say that about every athlete. You can't really say that about almost any athlete any more, not really – where the guy came to symbolize something that was a lot greater than the humble roots, rabble-rousing beer-swilling redneck days of his youth, and a father who drove him like an old school SOB ("So you had three feet of intestine pulled out of ya – I still think you can play"), something that spoke to young Americans across the country as real and authentic in an area focused on entertainment and glitz. Forget the supermodels and the New York City lifestyle – forget asking for a trade away from the smallest town with an NFL team to a place that had a bigger nightlife or an owner who'd spend millions on free agents.
He beat alcoholism and addiction. He had a kid out of wedlock with his high school sweetheart when she was just 19 – she was a year older than him. She kept the baby – she was Catholic. And instead of chasing after the pretty young things or heading out to California, Favre got married to her, bought a house back home for her, and loved her, and had another daughter with her, and now is helping her, as best he can, beat the disease that threatens her. We all know what Brett Favre did when this happened. And we know what Tom Brady does when life happens.
Brett Favre did not play the game like a kid. A kid plays a game without understanding; they think the game matters, and assume it matters to everyone else. They don't care what goes on outside the game. They don't think it costs anything to play the game. They take the game for granted. A guy like Reggie Bush plays the game like a kid – blessed with amazing talents, he squanders his time, his money and his days with trashy TV stars and hangers on. Someday he'll look back and say, "I wish I knew what I had then. I wish I'd shared it with people who loved me, not my money or fame or ending up on internet sites with me." Or maybe he'll never reach that day, never grow up … never know that life is hard, that it only gets harder, but that if you're tough, and ready, you stay cool under fire and roll with the punches – you can still win through, and do it smiling.
No – Brett Favre played the game like a man. He played it like other men should play it, and so few do. He played it like someone who came through the dark days of life knowing the value of every moment, knowing that the end would come someday, and he wasn't going to miss enjoying a moment of it along the way. He played like he was grateful to be there, knowing what a blessing it is to be one of the fortunate ones, fortunate to don this silly modern armor, the colors of a town, and run through a tunnel into a snowy night to the raucous cheers of young and old.
Today, the football world seems smaller. One of the last larger-than-life figures of the game I grew up with and watched every Sunday afternoon strides out the door, reluctant but proud, victorious. His choice, because he knew it was time. I can't help but think of John Wayne at the end of The Searchers, striding off into the wilderness, tears in his eyes, leaving behind those he loved, but knowing that this part of his life was over, truly over, and no power in the world could bring it back.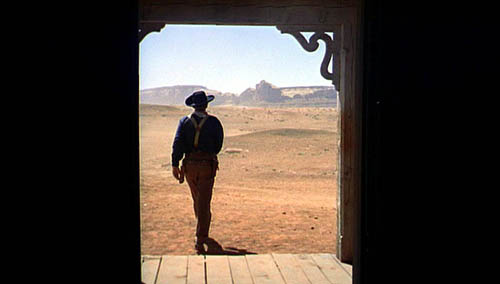 I saw him play once, in person. I will never lose that, and I count myself lucky. I'd seen Jordan too, and Gretzky, and Ripken. But this one was more special than that. The Redskins needed the game, and I was rooting against Favre, and doing it loudly. It was a tight game, and it swayed back and forth. And sure enough, he pulled out a victory at the end – making one more play, rolling away from one more tackle, arm cocked back as his eyes focused downfield, looking for his open man, finding him one more time, and winning.
I swear to you, he smiled while he was doing it. He smiled til the end.
We'll miss you, gunslinger.