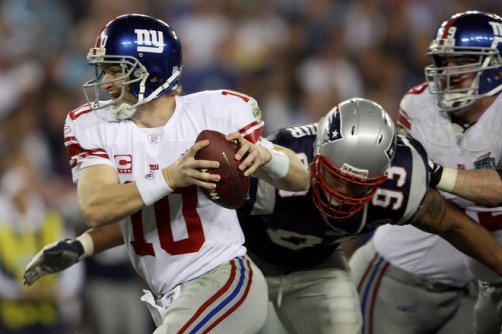 Forgive me, Mighty Football Gods, for I have sinned.
You must understand why I doubted your existence. After so many wonderful karmic finishes, where right was rewarded and evil punished, I and so many of my fellow fans and gamblers doubted that the season would end in anything less than perfection for the New England Patriots. The injustice of it all – a team stocked with arrogant jerks, cheaters, and metrosexuals, with a coach who may be the biggest jackass of his NFL generation (and among some strong candidates, you have to admit) – attaining football immortality. The miles upon miles of bandwagon Welker jersey-wearing Pats fans shouting epithets and reveling in their triumph. The prospect of the urtard writing story after story from here til doomsday about whether Tom Brady is hotter than Larry Bird or vice versa.
I'd seen the Giants live this season. I knew their many weaknesses. I thought, in my foolishness, that only a well-balanced team, a team like the Packers, could have a chance to stop the juggernaut. And so when that second Tynes field goal went through the uprights in Lambeau, I lost all hope. Never have I longed so much for Elisha, son of Manning to attain victory, but never have I so strongly believed he would fail. 19-0 was inevitable. You could write a book.
I did not comprehend your plan – how could I have? But if I had, I would've seen the magnificent beauty of it. This is the greatest karma of all, the greatest punishment you could wreak upon a franchise. What would've been an astounding feat – a perfect regular season – is now remembered only for its shocking, unexpected ending. What would've been the NFL's greatest team now goes down as one of the greatest chokes in sports history. You hit the hardest when you fall from the top of the mountain, before the largest audience in Super Bowl history. And what a wonderful fall it was, at the hands of a team of scrubs, led by Kevin Boss and David Tyree, and quarterbacked by the Elvii-eluding Elisha.
I still cannot believe it. But that is the nature of your works.
I've loved this game for so long out of the belief in you – that because of your unseen hands, modern day football, more than any other sport, rewards hard work, toughness, and character over flash, arrogance, and preening egos. But over the past year, my doubts had overtaken me, and I was on the cusp of becoming a non-believer.
The seeds of my doubt were planted during the Art Monk Hall of Fame fiasco. You will understand: after eight years of seeing my childhood hero denied, I saw the writing on the wall with the upcoming class of Cris Carter, Andre Reed, Tim Brown, Jerry Rice…this was the last opportunity for a wideout of the previous generation to get into the Hall. I could not believe it, but it seemed his window had closed. The season was a roller coaster of emotion, with the horrible leadership of Roger Goodell, the tragic death of Sean Taylor, and the celebration of T.O. and Randy Moss. And then, with the recent reports by John Clayton and other luminaries that Darrell Green – one of the greatest cornerbacks to ever play the game – could be denied entry into Canton as well, my heart was set.
I knew it. Karma was dead. The football gods were no more. Asgard lay empty.
How wrong I was. And so in joy and thankfulness, I beg your forgiveness. Help thou mine unbelief, oh mighty gods of the gridiron. I will not doubt thy works again.