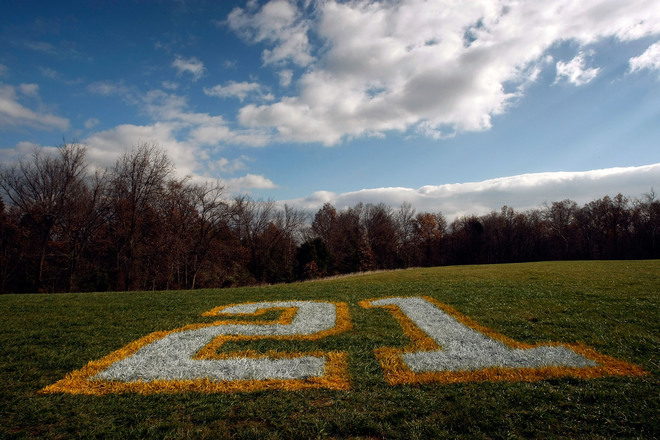 Taylor and his fiancee, Jackie Garcia, were asleep with their 18-month-old daughter when they were awakened by noises in the house. Taylor reached for a machete or other form of knife he keeps nearby in case of emergency, Sharpstein said. He told CNN that Taylor then locked the door of the bedroom, but that an intruder kicked the door in and fired twice, striking Taylor once in the upper leg. Garcia and the child were uninjured.

"This was a deliberate attack," said Vinny Cerrato, Redskins vice president of football operations.
In pro football, the Free Safety is the last line of Defense against the opposition. He is expected to cover ground at an incredible pace, snag key interceptions on long passes, run stride for stride with the best speed receivers in the league, and outleap the best jumpers at the endzone. He must play smart yet fearless, guard against the big play, be an exceptional open field tackler, and never give up anything. He must guard the line of the endzone.
It is not a position for the weak of heart. So Sean Taylor's heart was huge.
The violent death of Redskins Free Safety Sean Taylor is not something that any fanbase, any team can get over – maybe ever. Even before his death early Tuesday morning, Taylor was leading all defensive players in Pro Bowl votes, and the entire NFL in interceptions. The sudden demise of such a talented young athlete, nationally known, about to enter the prime of his career, has only one real comparison: it is as devastating to a franchise and a city as the death of Len Bias 21 years ago.
Sean Taylor was described as many things – but perhaps more often than any other term, he was held up as an example of the prototypical free safety of a new, more violent National Football League. At The U, he was a physical freak, an amazing specimen, equipped with the size and strength of a linebacker and the speed and agility of a cornerback. Taylor didn't just cover – he hit, and he hit hard. In just his second year in the league, he became a feared slammer, tagged as "The Hitman," "The Grim Reaper," or by some, the term that's now become even larger than him: "Meast."
Sean Taylor was a human highlight reel. Footage of wide receivers being decked by Taylor in his first year turned into footage of wideouts developing alligator arms, or giving up on routes rather than risk getting pummeled by the young man from Miami. I was there for much of it – my sister, brother and I had season tickets in 2005, his first full year as a starter – and we couldn't help but be amazed at what we were witnessing on the field. This was a game-changing old school tough, with the physical gifts to play like a wild man – a once-in-a-lifetime player. A phenom who actually surpassed his hype.
Writers said he was the next Ronnie Lott. No one laughed; a few wide receivers winced. And now he is gone.
The shock of this young man's death extends beyond the margins of the field, to fans and non-fans alike. People who loved Taylor's style, if not his team, mourn the loss of one of the most entertaining on-field talents in the game. People who knew him only from television and the sidelines stand and light candles in a cold, dark night as if he was a brother. And as the countless stories shared on websites over the past few hours show us, for many of the youngest Redskins fans, this marks the first confrontation with death.
Others are already locked into a debate, prompted at least in part by Chicago's Mike Wilbon and his insensitive comments, about the role Taylor's "association with thug life" had with his death. In reality, this is almost certainly a massive oversimplification. Taylor was the son of a Florida City Chief of Police. He has no drug record, and the 2005 DUI charge against him was tossed as soon as the judge saw the videotape (which didn't feature a particularly positive performance by Northern Virginia's finest). His lone standing arrest, for a run-in with the individual who stole his ATV, has been blown completely out of proportion. And even if you accept a view of Sean Taylor as an off-field thug (one wonders what this makes Pac Man Jones, Tank Johnson, or anyone else), his teammates and friends universally hold the opinion that this is a young man who had matured significantly over the past two years. He was never one to engage in public relations activity, but those who covered the team couldn't help but notice the change, from an egotistical and proud young man to a father and soon-to-be husband.
Taylor's experience may ultimately have more in common with the bizarre home invasion and kidnapping of the Texans' Dunta Robinson, or the drive-by murder of Darrent Williams. They are all young, prominent black men, none of them with gang ties, none of them known for frequenting strip clubs or violent locales, all with some degree of wealth – and all of them were deliberately targeted. While there remains confusion about whether this was a burglary attempting to catch an empty house on gameday, Taylor reportedly went on a bike ride Sunday evening before he turned in, so it's possible his attackers knew full well he'd be at home.
For a few days at least, Taylor's death transcends sports – and stands as a terrible reminder of the astounding death rates of young black men, one more young life cut short far too soon. The sad truth is that many white commentators will sincerely nod their heads, and sigh, and speak of how tragic it all is…and, growing uncomfortable, move on to other issues they find more pressing. And the death march will go on.
The shock of this death will fade for many – but not for me, and not for those for whom Sean will always be the center of their life. I have no idea if Sean Taylor's family can help his fiancee and daughter the way they need it at this moment, but I know Coach Joe Gibbs can help this team the way it needs it at this moment, and so do his former players. Moments like these demand the leadership of a someone who knows his Creator, and knows him well. We can only pray and hope there are similar individuals in the lives of Jackie Garcia and her young daughter, who will never know her father's face.
It is a dark day. But when I think about the last moments of Sean Taylor's life, I can't help but imagine that he knew the position he was in as he stood for before the last line, and knew it well.
The story we are told today is that when he heard the noise, he took a blade he kept under the bed for emergencies – he still never owned a gun – and locked the bedroom door. He stood in front of it, doubtlessly focused as he gripped the handle, standing at the ready, his wife and young daughter in the room behind him. He could not know what would come, but he had to know, as any young father does, that whoever it was would never pass by him.
Sean Taylor would guard the line to the end. Let them find the man who did it better.
R.I.P.
[tags]Sean Taylor, NFL, Redskins[/tags]