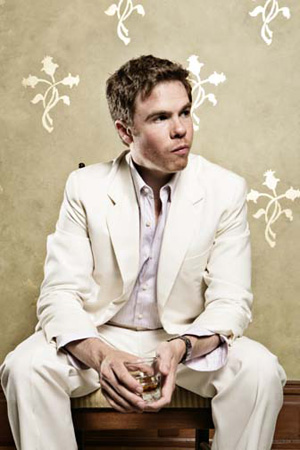 I have to confess, I owe Josh Ritter an apology.
I just didn't know he had it in him.
Music ties itself to memory, the ongoing education of guitar and rhythm that starts from the first days when parents sing songs to you as you sleep, or put on old songs they love on long car rides. I remember when I was 12 and discovered U2, and realized that music could move you…when I was 13, and found The Beatles, and realized there would never be anything better than the sound I heard through my headphones…when I was 14, and found Liz Phair, and leaped through puberty by the end of an album…when I was 15, and first heard The Jayhawks, and realized the radio wouldn't always tell you who the great musicians are…when I was 16 and first heard Ben Folds and Diana Krall, and realized a piano could do amazing things…when I was 17, and went to a Tibetan Freedom concert with Pearl Jam, Live, the Wallflowers and Beck, and realized maybe my generation could say something, too…when I was 18, and found Jay-Z, and reexamined everything I knew about hiphop…when I was 19 and discovered Nick Drake and rediscovered Bob Dylan, and realized music could tell greater stories than any other form…when I was 20 and realized Johnny Cash was the closest thing we get in this life to the voice of God…when I was 21 and Stevie Ray Vaughan taught me how to drink…when I was 22 and found Fountains of Wayne, Matthew Sweet, and Guster, and realized pop music wasn't that bad after all…when I was 23 and saw Mark Knopfler, and realized a guitar could sing…when I was 24 and found James McMurtry, Richard Buckner and Pete Yorn, and realized that American music could have a future worth hearing…and that's leaving out all the indies and small bands seen along the way that guided a pathway toward this moment.
Now I'm 25, and Josh Ritter has conquered the world.
American folk rock has two great temptations – women and political commentary – that lead to downfall. You can be looking for either of these and still make good music, and we have the proof – James Taylor singing "Fire and Rain," David Crosby singing "Almost Cut My Hair" – but those are the exceptions. Inevitably, the first path turns you into that guy from Animal House sitting on the back steps with a badly-tuned guitar; the second turns you into Rufus Wainwright, or worse.
The Historical Conquests of Josh Ritter follows on an album, The Animal Years, which seemed to indicate that the latter would be Ritter's weakness. It was good music, not great; it didn't stick with you for days after the way 2001's Golden Age of Radio did, with lyrics tumbling into conversation like Dylan's best. It was too earnest at points, and it lacked a lot of the bright eyed Idaho charm that filled 2003's Hello Starling, with drop-dead gorgeous songs like "Kathleen" and "Man Burning," ethereal, light-hearted, but always with a shadow passing in the background…no wonder the Irish loved him more than the Americans.
Historical Conquests is different, though, than all that came before. Ritter's latest album explodes out of your stereo and demands listening. This isn't guitar drenched folk you can keep in the background. This is raw and pitch perfect. Do not look too closely at Josh Ritter's lyrics, lest they tear your effing face off. Here is the old farmhand telling tales by the heat of the spark-throwing flames of a Civil War campfire, a mic-grabbing crooner bellowing from the center of Times Square with the music of the spheres as an orchestral backup, or a lonely man with a guitar telling stories full of bloodstains, black coffee, broken glass and ghosts of what will be.
This isn't Springsteenesque, Dylanesque, or whateveresque. Banish those words from your reviews, critics. This is Ritter announcing himself as being something more than we ever knew he could be. This ain't wildflowers and mournful tales of lost love; this is the Next to the Last True Romantic mounting up for one last ride. This is folk rock that banishes all its natural gentleness and cuts to the quick, recognizing the cruelty of truth as one of the most powerful weapons in any arsenal.
Josh Ritter sings music that drinks bourbon straight and is wanted in three states. And when that music comes to run you down, you will not escape.
Don't pity the bullet. Pity the man.
[tags]Josh Ritter, folk music[/tags]