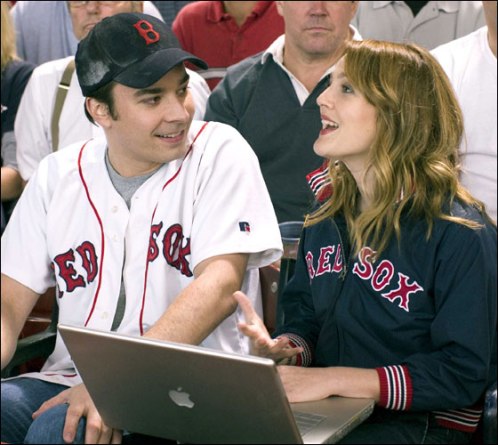 Growing up in the South without a hometown team, I never had strong loyalties to a baseball franchise. I liked players, not teams. I went to minor league games, not the big stadiums. I loved the guys I learned about from the older fans – I loved Sandy Koufax and Roberto Clemente, and as I got older, Andy Pettitte and Jim Thome.
After a decade of living in the DC area, my family finally got the Nationals, but now that I'm down here in Texas, I have to root for Zimmerman from a distance. Ah well – I'll make it up for opening day in the new ballpark, at least.
One thing's stayed constant through it all: I've always hated the Boston Red Sox.
It's not their players – hey, Curt Schilling is cool, I'll admit that at least, and Manny probably smells…interesting. It's not their management – though I do think the whole "last to integrate" thing was karma. It's their fans, and the overall media obsession with said fans and the Northeastern rivalry as a whole. And it's only gotten worse since they actually won and suddenly all these bandwagon fans woke up and bought gear – nearly as bad as Cowboys fans in the 90s. Think ten times worse than Bill Simmons represents them to be, and a hundred times worse than the worst Patriot fan you know. Yeah. It's bad.
With very few exceptions, the relationships I have with Red Sox fans are constantly on edge during the season. I suspect it makes it worse for them that I'm not some Yankee fan – there's no hateful comeback that my friends can make about rooting for the tanks in Tiananmen, and I readily concede that the Nationals are going to be lovable, scrappy losers for a long time, but we expect that out of one of the smallest budgets in the Majors. They'll be playing spoiler for a long time, just like they did to the Mets this season – and that's fine by me. And our fans won't be pompous jackasses, which is also fine by me.
So to recap: It's nothing personal. I just hope the Red Sox always lose. And I hope, somewhere, that makes Jimmy Fallon cry tears of unfathomable sadness.
This brings us to this year, and to a friendly wager on the Red Sox' prospects for the postseason with The Red Sox Republican. We have a history of these kind of wagers, and I've come out on top. We'll see who takes it this time.
He takes the Sox, who at the time I wrote this were rated 3-1 by Vegas to win the World Series. I take anybody but the Sox.
I'm pretty confident. How confident? Well: I'm playing for this. He's playing for this.
I'm counting on you, J.D. Drew. Play ball.
(Oh, and yes – remember, folks, Drew and Jimmy hugging on the field, that's the first thing you saw when the Sox won. You saw it – you can't unsee it!)