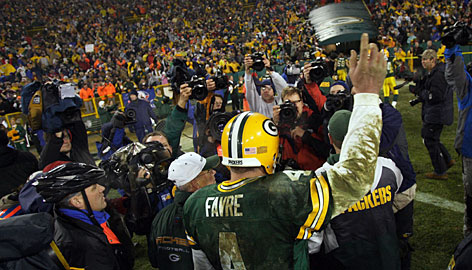 It sounds ludicrous, I know. How can a quarterback as lauded as Brett Favre – ESPN darling, king of the endorsement scene (well, til Manning came along), John Madden's numero uno mancrush – actually be an underrated quarterback?
Well, that's easy. With Favre about to set the all-time touchdown passing record, every talking head is getting into the ranking game, and other than the eloquent piece by Len Pasquarelli, few are giving Favre the credit he deserves for his career. The other day, Ron Jaworski stopped stroking Donovan McNabb's ego long enough to tell ESPN viewers that Brett Favre isn't even in his top six, and Dan Marino isn't in his top eight. And even those experts at Yahoo and Fox Sports who rank Favre highly put him barely in their top five, if at all.
As if their bias toward the present – instead of ranking a career – could be any clearer, many are putting Favre below Tom Brady. Let's nip this in the bud: Brady has won three Super Bowls, each time on a team with a fantastic defense (Favre hasn't had a top five defense since 1998), each time with a lead achieved by a Hall of Fame clutch kicker, each time under a coach who – cheater or not – is certainly in the top tier of NFL coaches, something which can't be said of Favre's signal callers (let's be honest: together, Rhodes, Sherman, and McCarthy couldn't hold Belichick's jock). Brady has the rings, yes – but are you really going to say Trent Dilfer, Mark Rypien, and Brad Johnson are better quarterbacks than Marino? Or if the number of rings matter, that Aikman and Bradshaw are better than Favre or Elway? That's just not an argument you can make with a straight face, or unless you're a total homer for your team of choice.
Placing Favre out of the top five quarterbacks of all time club ignores his consistent statistical success when compared to others. I'm fed up with it. So maybe it's time for a little refresher course, culled from the wonderful folks at Pro Football Reference.
Brett Favre: Top Five Quarterback
Favre is the all time leader in wins, with 150, despite playing one fewer year than Elway and two fewer than Marino. The only active QB with a shot to catch him is Peyton Manning, with 94 regular season wins, which should allow him to pass Favre when Manning is 37. Adding postseason wins allows Tom Brady (82 regular and postseason wins) a hope of catching Favre, but as it also increases Favre's total to 161 wins, Brady would likely have to play until he is 38 or 39 to match it.
Favre is the all time leader in completions, and the only QB in NFL history to pass the 5,000 completion mark. The only active QB with a shot to catch him is Peyton Manning. If Favre retired tomorrow, and Manning's average completions per season doesn't dip at all, Peyton would still have to play until he was 38 to catch Favre, and 37 to match his consecutive 300+ completion seasons (Favre has 15).
Eight of Favre's single season completion totals rank in the top 50 all time in terms of completions per season, higher than any other QB and stretching from 1994 to 2005.
Favre is second in the all time list of passing yards, exactly 3,000 yards behind Dan Marino. If Favre returns for a 17th season – remembering that Marino played 18 – he will pass Marino. Again, the only active QB with a shot to catch him is Peyton Manning. If Favre retired tomorrow, and Manning maintains his average for yards per season with no drop off, he'd still have to play until he was 37 to catch Favre.
Favre has scored more points than any other Quarterback in NFL history (2,598 at the start of the season). While Manning will almost certainly catch this, he will almost certainly not match Favre in consecutive seasons with 30 or more touchdown passes – Favre has five, while only 5 Quarterbacks in NFL history have even managed two. Manning has never had back to back seasons with 30 or more touchdowns.
As an iron-man quarterback, Favre is unmatched, with 241 consecutive starts this Sunday (261 including the postseason). Only one player in NFL history, defensive end Jim Marshall, has more – and it's much easier to get that record at a position other than QB. Favre will pass Marshall's total later this year, assuming he stays healthy. He will also pass Fran Tarkenton (244) for most career games as a quarterback.
Finally, as we all know, Favre is one touchdown away from passing Dan Marino on the all time list for touchdown passes. But in terms of total touchdowns, he's already four ahead of Marino – including rushing touchdowns and quarterback sneaks.
For what it's worth, here's my personal list:
Johnny Unitas
Joe Montana
Brett Favre
Dan Marino
John Elway
I feel pretty confident about this, as it dovetails well with the Sporting News list from a few years back that was Unitas, Montana, Elway, Favre. And yes, Manning will move up this list, and deserves to. But he isn't yet in this tier statistically, and while we all know how consistent he is, we can't put him there yet.
Assuming Manning has as long a career as these fellows had, he will eventually pass Elway, Marino, and Favre, though the top two will be hard to break through – Unitas because he accomplished so much in an era when the forward pass was a newfangled invention, and even moreso because he played in the era of shortened seasons, and has fewer games played than any others on this list, Montana because he has come to symbolize the ideal clutch QB in NFL history. Brady will have to keep up the pace of the first three games of the 2007 season from here on out if he's ever going to have the statistics to be considered in this company.
Finally, I'll leave you with this: As this season began, since the moment when Brett Favre took the field replacing Don Majkowski on September 20, 1992, no NFL team has won more games than the Green Bay Packers. Considering the era we're in, when franchises rise and fall quickly, and the talent pool Favre has had to work with for the past several years, that's simply astounding, and it's the mark of a truly exceptional leader.