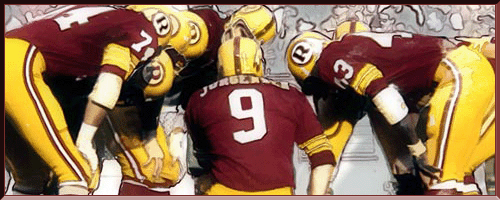 As the NFL season returns to us after the longest offseason in professional sports, let's stop to give credit to the players in tonight's opener not named Manning, Bush, Harrison, Brees, Wayne or Freeney.
Let's hear it for Ross Tucker, an undrafted offensive lineman whose career opened and closed with the Washington Redskins, writes his story for Sports Illustrated. He feels lucky, but more than that – read it yourself.
It just occurred to me as I write this how fortunate I am to have a supportive wife who is happily married to an unemployed, overweight, and slightly balding 28-year-old man. I will definitely be able to get a job and lose some weight now that I am done playing, but there is not much I can do about the balding part.

Although all but a few of the cut players attended college, I'm sure more than half have no idea what they're going to do now. Most of these young men are facing failure and rejection for the first time. Getting cut from a team or being anything less than the star has never even been a consideration for them until this point…I consider myself very fortunate in the sense that I have been preparing for this moment from the time my career started. When I first made the Redskins as an undrafted rookie in 2001, I realized that might be my only year, so I invested the money, continued driving my 1990 Jeep Cherokee, and began thinking about what I would want to do when football was over. I was keenly aware that football was just a temp job. I have a couple of business interests, such as www.gobigrecruiting.com, that will occupy my time, and I am more than excited about the possibility of writing or talking about football for a living. I figure if I can't play anymore, that would be the next best thing.

But it is not the same as playing. Nothing else in life can replicate the feeling of running into another man in front of 90,000 people and hitting him as hard as you possibly can. My mom will probably hate reading this, but more than the paycheck or the camaraderie of the locker room, I will really miss the violence. It is just an amazing and pure primal feeling that you really don't understand if you have never had the chance to do it.

It is hard to know when it will hit me the hardest that my time has come. It could be on Sundays when it is hard for me to watch the TV and see the guys I know playing. It is more likely that it will sink in when I sit in the stands of a random high school football game on a Friday night and my eyes fill up as they play the National Anthem…

Life goes on. And yes: I still love football.
Let's hear it for the Ross Tuckers of football. Let's hear it for the linemen who brutalize each other on every play with more energy than the overhyped and delicate wideouts and cornerbacks who yearn for the closeup and the highlight reel.
Let's hear it for the undrafted and the irrelevant, for the men who never dreamed they'd make it this far, who give it all because they don't have anything to lose – for seventh rounders and arena league castoffs, for Division I-AA players who beat out draft picks, and for grocery store clerks who hoist the Lombardi because they forgot they weren't supposed to be any good.
Let's hear if for the guys who don't need big contracts, don't need hot rides, don't need their names on ESPN, don't even need helmets – they just want the chance to play, to compete, to win, to have one small moment of victory.
Let's hear it for the players who will never be on the cover of a video game, whose name will never be worn on jerseys across a stadium, who may not even be recognized when they're seen in public.
Let's hear it for the kids who'll go to a stadium this weekend for the first time, who cheer as their team takes the field, and feel the whisper of that magical connection that comes with a hundred years of gridiron competition, who may not know or recognize Rice, Payton, Brown, Graham, Butkus, Nitschke, Lott, Greene, Huff, Thorpe, Unitas, Nagurski, Baugh, or Deacon Jones…but soon, they will.
Because the gridiron doesn't care where you were drafted. It doesn't care about your sponsorships or your forty time. It doesn't care about your name, your faith, the color of your skin, the country of your birth. It doesn't care if you are tired, or hurt, your body screaming against everything your mind is ordering it to do.
The gods of football care only about who wants it more. Who will see that moment as it comes, and seize it with all their might.
Game on.
I firmly believe that any man's finest hour, the greatest fulfillment of all that he holds dear, is that moment when he has worked his heart out in a good cause and lies exhausted on the field of battle – victorious.


-Vince Lombardi
(Originally posted by Ben on September 6, 2007)