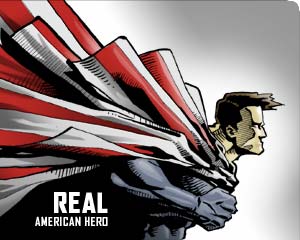 This year, September 11 will be a crowded day on the calendar. In addition to remembering the terrorist attacks, we'll watch as tens of thousands of American rescue workers help the Gulf Coast region recover from a different kind of assault. Many of us will think of the soldiers we know who are doing their best to hold a fragile peace on foreign soil. And hundreds of thousands of sports fans will gather at football stadiums to tailgate, celebrate and cheer on their team — many of them doing their best to forget the world outside.
It won't be any less crowded for John Gormley. John Gormley is a man who wears three hats. The first is his New York City Fire Department helmet — he is a Lieutenant serving in Manhattan Ladder Company 34. For years John has battled fires, rushing into the burning buildings of Washington Heights. He does his job with a simple courage — the kind of dedication only found in those who wake up every morning and go to work knowing this may be the day they are called upon to lay down their lives for a stranger.
John's second hat was the reason I heard about him: after 9/11, he was profiled in an NFL films special that told the story of The Bravest, the FDNY's football team. The team of firefighters — some former college and high school players, others who just have a love for the game — play a full season every year in the National Public Safety Football League, playing against police departments and other city workers across the country. John played Defensive End — but more importantly, after the team lost many of its players on 9/11, he also became the team's de facto chaplain, helping his brothers in arms cope with the tragedy that claimed the lives of 343 firefighters.
Before John became a firefighter, he was a Navy aviator in the first war in the Persian Gulf. So after America declared war on Iraq, reservist Lieutenant Commander John Gormley asked to return to active duty. Stationed on the U.S.S. Constellation aircraft carrier, he flew multiple combat missions with the Fighter Squadron VF 2 Bounty Hunters over Iraq. He brought with him his first-hand memories of inhuman ferocity and presented T-shirts from FDNY firehouses to his fellows on the ship as a show of support.
One bright morning he climbed the stairs to the ship's signal bridge and raised the proud colors of the FDNY flag. Military regulations don't allow for such things — but the young sailors and marines on the flight deck below knew what to do. They rose to their feet, stood at attention, and gave a sharp salute.
When John's tour came to an end, he returned home to more than just a hero's welcome and a chance to play in the final game of the season — a sweet victory over the rival NYPD. While at sea, his wife Kathleen had given birth to a child, Kevin. John's homecoming included holding his newborn son for the first time. He told me he still believes that's the reason for it all — the conviction that we have to confront the threat of terror in our time, so that our children and our children's children don't have to grow up in fear.
When I first heard about John's story, I was almost too jaded to believe he was real. There had to be some catch. If not, this was the story of a real hero, the kind that television and pop culture said died a long time ago. I decided to find out.
I met John in person a little over a year ago. I was in New York on business, and after getting in touch with him through the FDNY, I took the long train ride up from downtown Manhattan to his station house. I had to meet him, if only to make sure someone like him really existed.
The Ladder 34 station house was a simple old place, full of truth, memories, and thick New York accents. John was just what I doubted even existed anymore — a bighearted Captain America of a man with an honest smile. I met his fellow firemen and helped unload some gear. Over thick black FDNY coffee, he talked with me about his experiences and his plans for his life ahead. He told me about how the station house we were in was designed originally for horse and carriage, serving the firefighters of generations past. We discussed issues of politics and faith for several hours — and we talked football, too, even though John says he's gotten too old to play with The Bravest any more.
Then there was a loud siren blast — a fire in an apartment building nearby, someone shouted — and John and his crew pulled on their gear, climbed on the fire engine and took off. Just like on every other day.
The world has long told my generation that there are no more heroes, that the best we can hope for is action stars and Hollywood hype. Maybe I started to believe them. But they're wrong — they're just so lost, they don't even know what heroes look like. They don't see the everyday heroes — the ones whose bravery is so often ignored, who face danger in our stead.
What I found in New York was a man motivated by the conviction that it's his job to make the world a better place for his children. He heard the call that every firefighter — every soldier — every hero hears. It is the call that says a man's world isn't just what lies within the four walls of his home and in his line of sight. As Winston Churchill said: "There is something going on in time and space, and beyond time and space, which, whether we like it or not, spells duty."
This duty has a cost — and it's often a terrible one.
John called me a few months ago to ask for help. He was preparing remarks for an event honoring Christian Engeldrum, the first FDNY firefighter to die while serving in Iraq. Engeldrum was a police officer, then a firefighter, then a soldier — and in the line of duty, he became the 344th New York firefighter since 9/11 to die at the hands of the terrorists. He left behind a wife, two teenage sons and a daughter born after his death.
It was hard to help John write the tribute. Emotions run high — the act of erasing a father from his child's memory is perhaps the vilest crime I can imagine. I did my best to give John the words that would pay a fitting tribute to a fallen brother — the 344th victim of the 9/11 attacks among FDNY's ranks.
It's been four years since that day when the world changed. It's still a broken world — a vile, harsh, and callous world. It's more violent than before. More evil, if that's possible.
John Gormley models the best response we humans can muster against that evil — a bravery of soul and spirit, a commitment to rescue those held captive by fire or tyranny, and a readiness to be counted among those willing to sacrifice to that end. America is blessed to have had such heroes serve this country, and it should have more.
As for me, John Gormley reminds me that no matter how dark these times are, there are still men willing to stand and do what is right. These heroes may not show up on your TV screen or at your multiplex, but they're out there, reminding us in their everyday ways that ultimately, this battle is already won.
Copyright © 2005 Ben Domenech. All rights reserved. International copyright secured. This article was published on Boundless.org on September 8, 2005.